Mama Ngai: It's the village first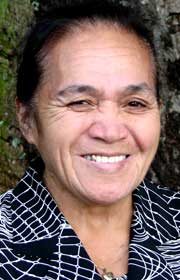 Mama Ngai Tupa "I will do the very
best I can to help my people.
They are welcome to visit me any
time and talk on community issues."
Mama Ngai Tupa is going to Parliament with a mission.
"It my chance to give back to the people who have been ignored for so long," said the Democratic Party's surprise general election winner in Tukuvaine–Tutakimoa.
Mama Ngai said she has watched the once happy villages of Takuvaine and Tutakimoa people become divided over politics.
"Politics has ruined the spirit of our village" said Mama Ngai. "I want to work together with the other side to bring the happy spirit back.
"It's not hard. You just need to call a meeting and listen to the peoples' views. They are the ones who count, and they are the ones suffering."
PROMISES
Mama Ngai, a 72-year-old shopkeeper, was up against businessman Mark Brown, of the Cook Islands Party. Many from outside Tukuvaine–Tutakimoa thought she had no chance.
But Mama Ngai said she has sat and watched over the years election after election and promise after promise.
"Then once you vote them in you see nothing happens. They forget about the little people … that is you and me," she said.
"I feel sad looking at all these things around my village that need to be done. I just cannot sit here and watch it any more.
"I will do the very best I can to help my people. They are welcome to visit me any time and talk on community issues."
Mama Ngai stresses: "Let's forget about politics and talk about what's best for the village. That way we will be able solve some of these old problems that need urgent attention."
PROBLEMS
Mama Ngai talked of many problems within the Takuvaine and Tutakimoa area.
She said there is a drainage problem, the roads in the valleys are falling apart, some houses do not have running water, the bridges on the back road are unsafe, and flooding is getting worse.
Mama Ngai supports Jim Marurai to be Prime Minister with Terepai Maoate as Deputy.
At present, Mama Ngai is spending most of her time at the hospital looking after Papa Tupa, who has a mild dose of pneumonia.
They are expected to come home within the next few days. Then she plans to sit down and talk with the people of her village. They're the priority for this new parliamentarian.

Headlines : Times 170
- Business as usual
- Its not over yet!
- Mama Ngai: It's the village first
-Marurai people's choice, says Dr Maoate,but....
- TANGI: MY WAY
- The trouble with Tangaroa
- 'Surviving' here would be easy
- WE'RE IN : Pacific Women in Media plan gets Cooks input
Headlines : Times 169
- JOB CHANGE HITS DEMOS
- Where election will be decided
- VIEWS: "Integrity: Is it important?"
- Letter to the Editor: Our genealogy through Rangi Makeakea
- Taio sails in to help
- William Kauvai stands up to a big man in his vaka
- Rhino Beetle battle 'won'
- Cooks teen 'froze' as baby drowned